First of all, you can see the Betfury's banner in the daily offers's page on Entropia Partners.
Betfury is an online casino with crypto currencies. Like freebitco where many of us here play.
The main and the HUGE difference with freebitco and all of others casinos is in the fact that each time you bet, independently you win or loose, you gather BFG tokens.
These BFG tokens are the most important treasure on Betfury because they give you daily dividends !
How work BFG tokens ?
BFG tokens give you daily dividends. These dividends are taken in the dividends pool which is the total benefit of the casino. Each day, 3% of this pool is shared between BFG tokens holders (you need 10 BFG tokens to begin to earn dividends).
More you have BFG tokens and more you will earn daily, of course.
Actually, you earn daily 77000 satoshis (0.00077 BTC) for each 100 000 BFG you hold.

Like any crypto coin, these BFG tokens are limited to 5 000 000 000 tokens and can be mined only by gamble on differents games in Betfury (in-house games and slots). Like any coin too, more the number of mined tokens increases, more the difficulty to get them increases too, of course.
About the value of BFG tokens ?
Actually, Betfury's team begins to talk with some exchange platforms to allow the BFG token to enter on market. In the future, you will be able to buy/sell them.
For moment, it's difficult to know the future price of 1 BFG. But they are precious and give day after day dividends.
Is Betfury a ponzi or a scam ?
Of course I think not. But who would have know what happens for mtgox, cryptsy and many others. Tomorrow Entropia can stop too. There is always a risk with virtual world, virtual money and crytpos.
Betfury is a serious platform with devs and serious support members.
Actually, they celebrate the first year of this platform.
They are on twitter for the advertising but they are more presents on telegram (betfury.Io). On telegram, players can talk about tactics, tips, ask support immedialty. There is a high density of messages and informations on telegram.
https://t.me/Betfury
I trust in this platform, in this casino of a new kind who pays their users with dividends.
The great thing is you're not forced to always play to keep your BFG tokens. Once you earn them, they are yours forever.
Others good news about Betfury ?
First, for those who like faucets. There is the free box.
edit the 18th november : now, the faucet gives you 10 satoshis every 20 minutes and as many times you want / day. It work for all users, news ones and olders. Due to the increasing of BTC and the war against multiaccounts, for moment, they decrease to 10 satoshis instead 25 before.

Then, they regulary offer specials boxes. Boxes are a great promotionnal tool.
Indeed, boxes are a short term investment. For example, a box can be sell 0.001 btc and will give you 10 % interests for one month. At the end , you will recover the 100 000 satoshis + 10 000 satohis in bonus. And you can withdraw satos of the box when you want. They are added in each second to reach the total amount expected after one month.
Of course, these offers are limited by some conditions which can be level of player, money wages in the past, number of boxes available...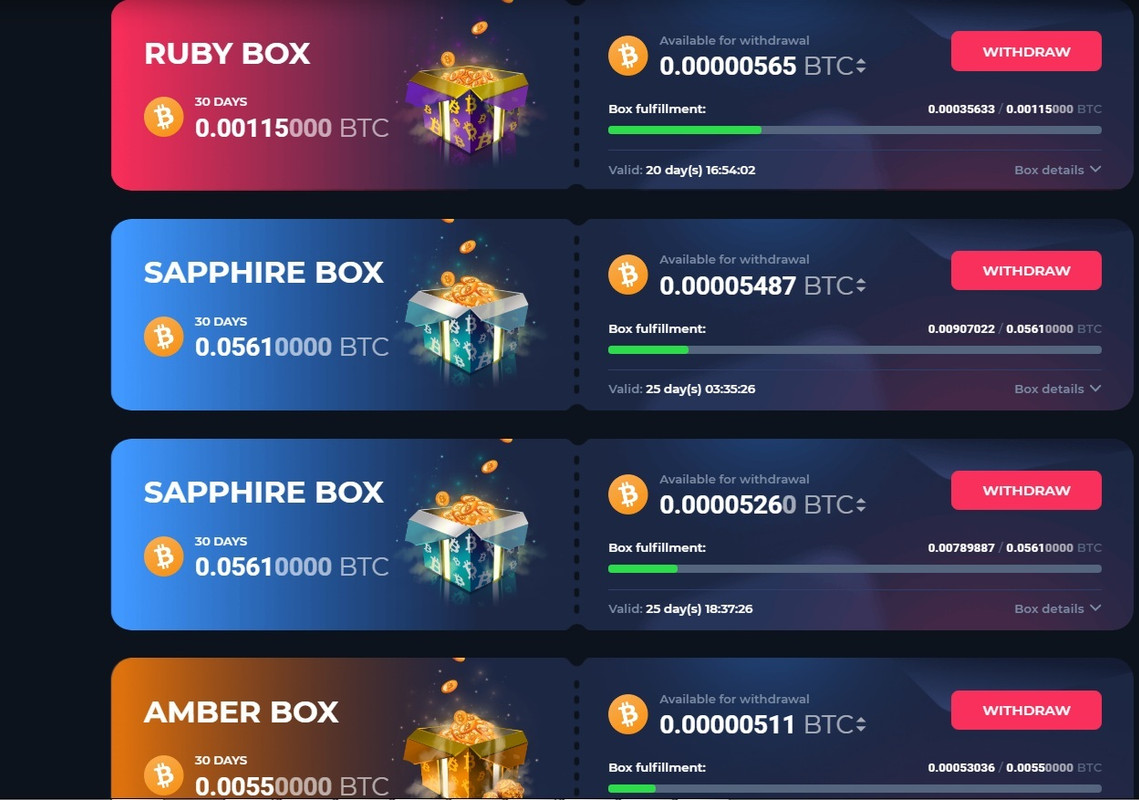 Last thing, there is a cashback. When you loose satoshis, two times a week, you can claim a % of satohis lost. Depends of your level, the % increases.
Betfury accept only BTC (satohis) ?
No, at beginning, there was only the trx on Betfury. They added btc, btt, tether and sun. Others will come later.
What about you Gabrielle ?
I began two months ago like a curious spectator of cryptos currencies. I made some investigations about the platform, tried to deposit and withdraw, tried to get dividends... all work.
So I deposited and begin to play.
At the beginning, I did the mistake to play in order to earn satoshis, like in any casinos (freebitco or others). But now, I changed totally my strategy. I play in order to loose the most slowly possible my satoshis. Indeed, more I bet, more I earn BFG tokens which are THE KEY !
So I play only the dice game, put rate success at 95% and bet each time in automatic 0.5% of my balance. At the end, I will loose my satoshis, for sure, BUT I will earn a lof ot BFG tokens and so, more dividends daily. I prefer to expect incomes on an long term.
Players play all differents tactics. Like some of you , I tried the martingale on freebitco... at the end , we know who won :)
A last tip but for me the most important : NEVER BET YOUR BFG tokens. You can think you can increase quickly BFG tokens if you bet them. Maybe on a short term but trust me, at the end, you will loose them. They are too precious. You can loose satoshis but don't loose the key to earn daily satoshis.
I will answer to your questions with pleasure !
edit of the 23th november 2020 : NEW REWARD IS NOW AVAILABLE (go read the second message in this thread for more explanations).
Now you earn not 10% but 20% and not only on boxes but on ALL satoshis I earned due to your activity.